Over the past several months, most of the new updates for Facebook have been focused on increased security for users and transparency from the Pages you're exposed to.
With all of those recent updates, Facebook has found several new ways to improve the platform for everyone involved.
Last month, we have seen a large number of diverse new features rolling out all at once. We're seeing small but helpful changes like a crosspost to Instagram feature and much larger ones like the testing of augmented reality ads.
Today, we will go over all the Facebook updates that you need to know.
New: Info $ Ads Feature for Pages
Facebook recently released a new Info & Ads feature for pages. This allows any user to view all the ads any page is currently running – event if they aren't following that page or a member of the ad's targeted audience.
This will help with transparency, and it also gives users the ability to see the general history of a page.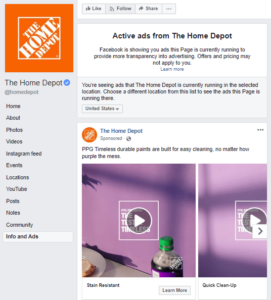 Facebook recently dropped a new feature that allows Pages to crosspost single-image posts directly to Instagram.
You must upload a single image, or the crosspost option will not be available to you.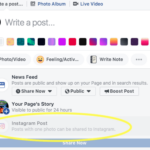 This is convenient and easy, which is always a nice benefit. That being said, you shouldn't rely exclusively on this feature to manage both profiles. Keep in mind that Instagram and Facebook have different sets of best practices, including hashtag usage and even potential peak usage times.
New: Facebook Tests Augmented Reality Ads
At the 2018 F8 Developer Conference, Facebook announces that they will be testing augmented reality ads in Messenger with select brands, and this week, they announced that something similar would be showing up in users' feeds.
Select advertisers like Sephora, Michael Kors, Wayfair, and Pottery Barn will be the ones getting to test these ads, and the goal is to roll them out to more brands throughout the year.
These ads currently allow users to use Facebook's native in-app camera to see how products (like sunglasses or a certain lipstick color) would look on themselves.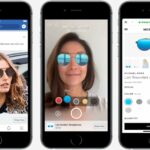 Augmented reality has a huge selling point. It doesn't require potential customers to invest in technology that many can't afford like virtual reality currently does. This ability being added to Facebooks Ads will make the platform even more competitive and effective, especially since users don't have to leave the app to access the features.
In Prototype: "Your Time on Facebook" Toll
There is now a prototype version of a "Your Time on Facebook" Tool which will show users how much time they spend on the mobile Facebook app.
They'll be able to see average time spent per day, and total time spent within a 7-day time span. It also will let users set a daily reminder that alerts them when they've reached a pre-set time on the app.
This seems oddly selfless for Facebook, but its matching digital wellness initiatives that we've seen being release by Youtube and tested by Instagram.
In Testing: Tools to Make Facebook Less Intrusive
In addition to the feature above, which could result in users spending less time on the platform, Facebook has released two addition features that are designed to help reduce exposure to the certain aspects of the platform.
Keyword Snoozing will let users keep out of their feed posts that contain certain keywords.
This is a huge asset to users which will allow for certain things to stay out of your news feed. When you click on a post's right hand drop down menu, you'll be able to choose "Snooze Keywords." They'll pull a list of the keywords directly from the post, and you can choose what you want to hide for 30 days. It will keep the content out of your feed, and (hopefully) out of your sight.
It also seems like Facebook is also testing a new must button for notifications, which will work like a Do Not Disturb Button.
There are no confirmations of plans to roll it out so as soon as we know, we will announce.
That's a Wrap
Now that Facebook got some of the security concerns out of the way, we're back to seeing exciting new and groundbreaking features at full speed again.
Each of these changed could offer significant new capabilities that could affect how users and businesses alike use the platform, so keep an eye out for these changes coming to you. . . and on what's coming next. Contact us today to discuss PPC and Ads Management services